Download and install steps for FTX NinjaTools Addon Demo
updated on 1/12/2022
1. Download and import into Ninjatrader using the Control Center/Tools/Import/Ninjascript menu.
2. Restart NinjaTrader
3. If you do not have an account with FTX, you can register a new one at https://www.ftx.com/
4. Create a new api key at https://ftx.com/profile. Make sure the key is created on ftx.com
5. After the restart setup your account in the new FTX menu. (click on the ftx settings at the bottom of ftx menu).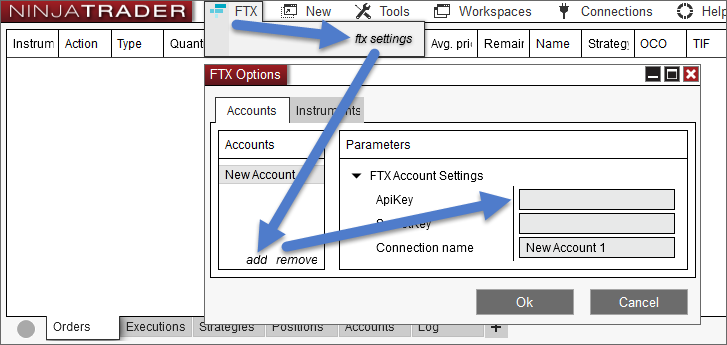 6. Connect to the feed from the FTX menu. Make sure to connect before any other connection.

7. Open a new chart, and choose an FTX instrument from the instruments dropdown - FTX list.
Limitations of the demo
- 14 days of historical data
- Expire after 7 days
Information on Instruments
All exchange listed instrument are available from the instruments window.
The instruments window can be opened by clicking on the search icon next to the instrument selector.
Information on Position Sizes
1 unit in Ninjatrader represent 0.001 unit at the exchange.
For example order quantity 100 in Ninjatrader will place an order with order size 0.1 on the exchange.
You can change the default order size for each instrument in the FTX settings - Instruments tab.
Troubleshoot problems with the addon
In case you experience problem with the addon first check the Control Center - Log tab
for a notification or error message which can describe what the problem is.

If you experience unknow instrument error message, or the chart is not loading,
check if you connect with the addon before any other connection.

If there is no error message or the error message does not help to solve the problem
save an image from the issue and send it to support@ninjatools.studio.
*Product Compatibility: NT8 8.0.14.0 - NT8 8.0.25.0
You can subscribe to the product below.
Before the purchase, I have tested the product,
and found the features are right for me.
I agree to the
Terms & Conditions
.